(written by Matthew Hansen-reprinted with permission from The Omaha World-Herald)
Rich Yost was tidying the boxes in his basement when he happened upon his own personal chunk of Omaha restaurant history. He had forgotten almost completely about this, forgotten that he had collected tiny, free artifacts for decades and pasted them on a posterboard and displayed them proudly for visitors. He remembered now. The 53-year-old took the posterboard upstairs. He peeled the 200-odd matchbooks and business cards off of it. He arranged them on his kitchen table. He emailed me. "I made a discovery which took me on a trip down memory lane," he wrote.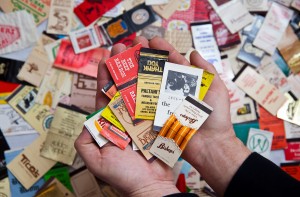 Which is how I ended up over at the Yosts' South Omaha home, taking my own personal trip through what Rich calls "the graveyard of Omaha restaurants."
It's a tour of the Yost family and their food. It's a story, or a series of stories, that isn't really about food at all.